The magic of the Runes
What do you get when you combine Bjork, an ancient Japanese board game, dreams and gods of war? Magic! Runes! And Shamanism.
Despite having launched Ancient Rune Readings as a formal TOTEM service last year, not one person has ever requested or scheduled one. And, when one considers that I'm busier seeing more new clients for more sessions than ever, this paradox has become a real mystery to me, begging the question:
Why doesn't anyone want an Ancient Rune Reading?
TOTEM Readings is a reader-supported publication. To receive new posts and support my work, consider becoming a free or paid subscriber.
I've asked coaching clients, friends and collaborators and the general consensus is that they don't really know why it isn't more popular, either. We all posit a loose guess that it's because it's old- hence the word "ancient"- and that folks may not be that familiar with the Runes. But the same could easily be said for tarot, channeling, mediumship, and other services that are cranking away without any resistance.
So, instead of keeping a metaphorical browser window open to noodle on this mystery in perpetuity, I decided to do something about it. Well, to do two things about it:
Share some of my magical experiences with the Runes here on Substack; and

Offer a short-term 50% discount on all Ancient Rune Readings through the end of March, 2023 (discount calculated automatically when booking online). The link to book an Ancient Rune Reading is on my services page HERE.
A brief history
Entire volumes have been written about the Runes, their origins, and their function as a proto-Germanic, hieroglyphic language used by the Vikings and other ancient civilizations. Rather than dig into the dry, academic stuff (which isn't my specialty anyways), I thought I'd share the mystical explanation for their origin and purpose.
Long story very short: Odin, the original Hanged Man of the tarot and primary Viking deity, hung himself upside down from the world tree- Yggdrasil- in an effort to be given the Runes by the Norns. The Norns are the ancient Viking version of the Three Fates of Ancient Greece: three sisters armed with divine knowledge.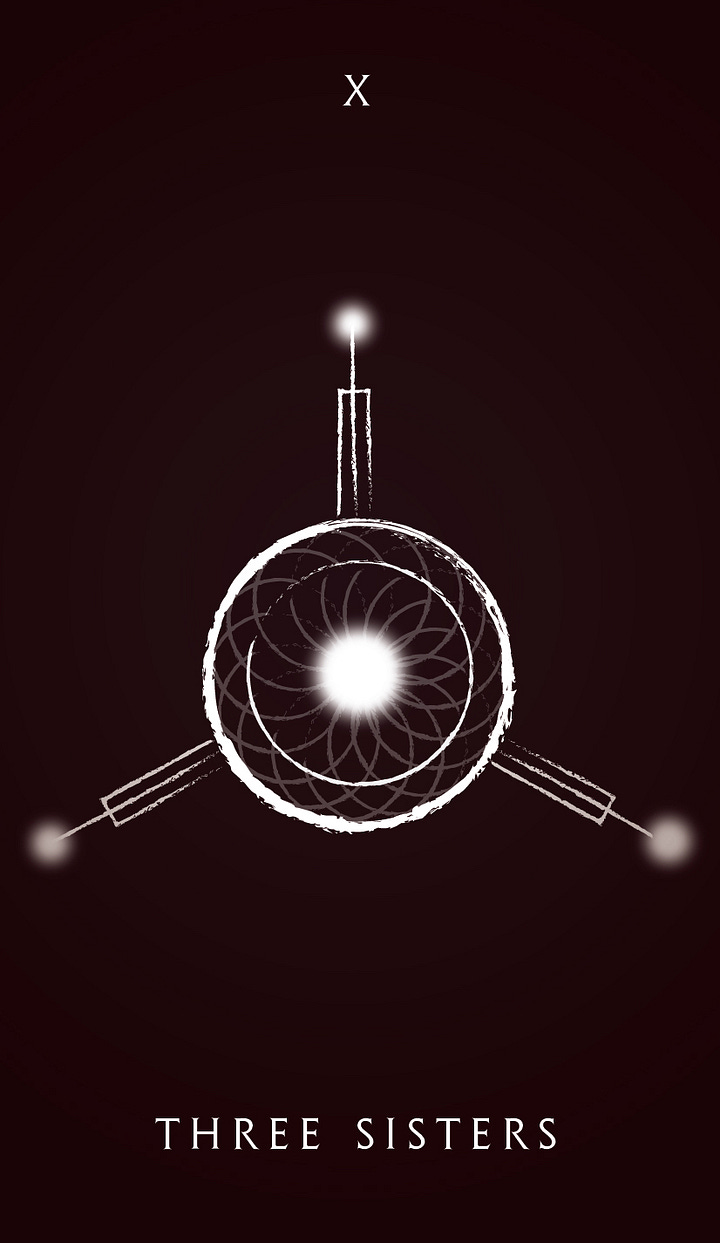 Fun note: We feature Odin in our TOTEM Tarot Deck in place of the Hanged Man card and the Three Sisters in place of the Wheel of Fortune card in specific homage to this cosmic interaction (images above).
Bjork plays one of the Norns in the incredible movie The Northman, even fiddling with her spool of wool (the symbol featured in our TOTEM Tarot card) while providing prophetic wisdom to the story's hero:
In ancient Norse mythology, the Runes weren't just used as letters of a language. They equipped the user with the ability to divine information beyond the veil of illusion, acting as an early tool of divination: the practice of seeking knowledge of the future or the unknown by supernatural means.
Think hyped-up tarot cards that also serve as letters of a language.
[Fun fact: the Hebrew language is also metaphysically heiroglyphic in the practice of Kabbalah. And the ancient Chinese iChing- a series of symbolic hexagrams- functions much like the Runes as well.]
Odin wanted this power of divination that had previously eluded the gods. He sacrificed a lot for them, effectively making it impossible for the Norns to deny him on his quest.
Why, you might be asking? Well, because he's smart. as. hell.
That's why.
Odin made himself so pathetic and starved and sick and helpless- just hanging, day after day, from that world giant tree- that these keepers of fate, the Norns, would take pity on him, ultimately giving in and arming him with this spiritual technology.
Because he gained possession of the Runes, Odin became the most powerful Norse deity. As a god of war, he could explore strategies and anticipate future events, harnessing the power of prophecy, fortune telling, and shamanic warrior medicine to play chess while his enemies were playing checkers. I mean, it's one thing to have brute strength. It's quite another to have predictive quantum computing capabilities.
Runes were also used in powerful spell working and ritual magic in Viking culture, as was featured in the incredible horror movie Midsommar:
[Fair warning: Midsummar is a HORROR movie. I happened to like it. And yes, I watched it on mushrooms. #shaman]
If you want to explore this concept in a fun and approachable and not totally mind-bindingly terrifying way, I cannot recommend Neil Gaiman's book and subsequent television series American Gods enough. Mr. Wednesday- aka Odin- is so accurate to the version of Odin I have met on the astral plane that I nearly had a stroke. Again.
Here's a short preview of the series for your reference:
My first foray
So, back to the Runes themselves.
I've owned a set of Runes for more than a decade…but have honestly not started using them in earnest until a few years ago. As with most things in my shamanic practice, I wait until spirit directs me to it before I dive all the way in. I jokingly refer to this exploration-first approach as "reverse engineering", prioritizing direct downloads and revelations and experiences over planned, linear study, only "looking stuff up" after personally encountering it.
I like to joke that I'm the Leroy Jenkins of shamanism:
If you know, you know;)
So, how did my use of the Runes start? As with all good things in shamanism: it started with a dream.
And not just any dream. A very, very Odin kind of dream. I mean: he's the god of prophecy for a reason. Homeboy knows how to do it.
In the dream, I saw a large go game board. Go is an ancient Japanese game, older and more complex than chess. Upon waking, I only had a vague sense of awareness that it was a real game, and remembered a clip from one of my favorite movies, Pi:
Pi is Darren Aronovsky's first film foray into conceptual Kabbalah, centering around a mathematician attempting to learn the arcane name of god…in a number. It's a f*ckig awesome- though dark and upsetting- movie about Kabbalah, God, the Tree of Life, and…well….how prophetic experiences aren't really that much fun.
Worth noting: in these scene from Pi (above), the characters discuss how the go board is meant to represent the known universe, perhaps presenting a cosmic map to the player. This comes into play in the dream.
On the dream-version of the go game board I saw a single Rune with an "R" on it. Now, when I first woke, I thought, "There's no way that's an actual Rune. There's no "R" Rune. Can't be. This is too crazy." Upon Googling this I discovered that it is a real rune…and one with a fascinating- and very relevant- meaning. Raidho, the "R Rune", is the rune of ordered movement of energies in time and space as it pertains to human awareness.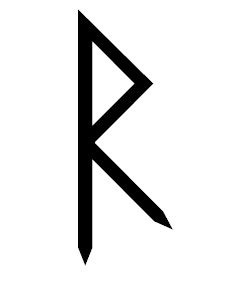 Whew. Yah, that's pretty deep. A Rune representing the superposition of human awareness in time and space on a game board meant to symbolize the universe was a bit…too much. This was one of those shaman moments that brings a tear to the eye, but not because it's poignant or emotional but because your physical body has an uncontrollable reaction to the intensity of the situation.
What did this dream mean to me, you might be asking? Well, it's my belief that Odin was showing me where I was located in consciousness, time and space, a kind of multidimensional three-pronged longitude and latitude with which I could orient myself. Now, to what and why and how, you might be asking? Yah, I don't know. Or at least I don't know in linear, rational terms that I could convert into language for you.
As with so many moments in the study of shamanism, it just changed stuff. Another kind of awareness came into my energy body and subconscious mind, effectively working without providing me an owner's manual. A metaphor I like to use for experiences like this? I can look at a watch and know what time it is without needing to know how the watch works mechanically.
So, this dream- and this Rune, Raidho - gave me an awareness of what time it is, spiritually speaking. It is time for a cosmic adventure. It is time to understand how complex and multidimensional the cosmos really are. That I was regarded with some awareness by these beings. And that it mattered, whether I understood how or why.
As for the mechanics of the metaphorical watch itself, I'll have to hope to learn more at another time. Or not. It's not really up to me.
A visit with another god of war
Very recently, I had another incredible dream with a different Rune and a different Norse deity at the center of it: Tiwaz and Tyr, respectively.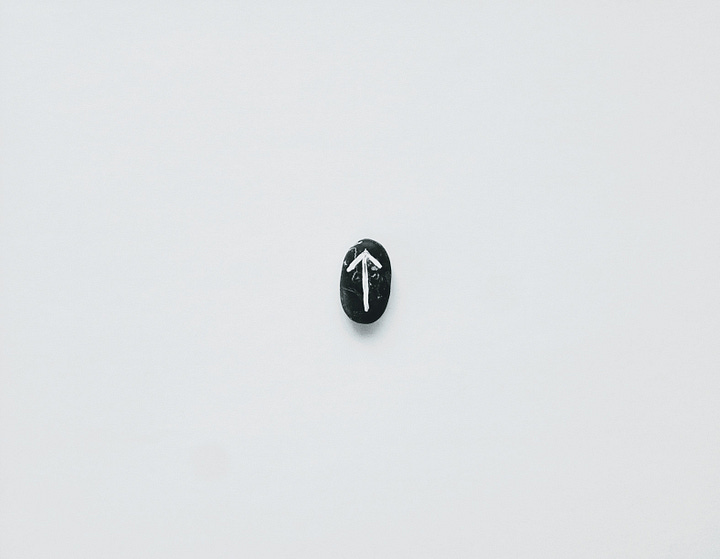 Tiwaz is the official Rune for Tyr, a Norse god of war (specifically of battles), wolves, justice and a collective, social sense of right and wrong. The arrow image on the Rune is meant to evoke orienting ourselves to the North Star, effectively being in clear communication with our moral compass as we navigate life.
What's more: Tyr lost his hand to his best friend, the wolf god Fenris, out of an ethical commitment to an agreement. Because of this, he's associated with wolves and also with a perfect sense of right and wrong. His word is his bond. He doesn't flinch in the face of pain or loss. He doesn't winge or bitch or moan about his suffering. He takes it on the chin…or, in this case, at the wrist.
In short: Tyr is a real badass.
In this Rune-centric dream, I was performing exorcisms on dozens and dozens of people within a winding dreamscape of buildings in some strange city from an alternate dimension. Or, as is often the case, this was my brain's interpretation of the astral plane of this world: a vibrant, strange dimension of saturated hues and intensely magical objects and places that looks just a bit too much like the John Wick movie sets.
At some point in the dream, I was helped by a badass young blonde woman. We exited a movie theater having just completed some successful exorcisms when she started walking away from me towards an area that I (somehow) understood to be another dimension. I grabbed her arm and said, "No! You can't leave yet! Our whole world is filled with these things and I need your help!"
Her response? Handing me a single Rune. It was Tiwaz.
In the days and weeks to follow, I kept seeing giant black wolves in other rooms or out of the corner of my eye. Now, I own a black-colored wolfie dog, so I naturally kept thinking it was just Gus being creepy…but, upon checking, he would be in another room. And I realized he's much smaller than whatever these other furry friends are.
It dawned on me- fairly slowly, considering what I do for a living- that I am working with wolf as a TOTEM Animal and with Tyr as a high-level Spirit Guide. Considering their connection in Norse myth, it's not the craziest of pairings. And we are just in the beginning stages of our "relationship", so I don't have a lot to report just yet..but I do have a few ideas. Even this early on, I feel clearer, more direct, with more physical energy and muscle tone. I'm less wishy-washy about the convergence of my personal ethics and those of society. In other words: the Rune Tiwaz, the god Tyr and the TOTEM Animal wolf, have made me even bitchier then before.
And just when we thought it was impossible.
So, why Runes?
Obviously, Tarot is my first love and our TOTEM Tarot Deck is my life partner. But, if you're looking for another tool of divination or another service with TOTEM, Runes offer:
Holistic perspective: Tarot is great, in part, because it gets into specifics. The nitty gritty of people, places, things and timing. But Runes, for all of their specificity, tend to look more towards trends and seasons. While specific enough to touch on pragmatic concerns- like focusing on planting seeds or on gathering the harvest, for example- the Runes transcend petty matters and enable the client to gain spiritual insight that helps them rise above the "ignorant present". Many of the Runes embody seasons of the year, forces of nature, or overarching concepts like wisdom, justice, love, service and generosity, giving the client a strong vibe on what cycle they've been in and which energy is coming in as they push into the future. Will it be a good abundance year? Are things going to be stagnant and beyond the client's control, urging them to tap out and focus on spiritual growth? Is it a time to start or end projects? Collaborate or go it alone? The Runes know all of this and much, much more.

Magical connection: I mean, the Runes are witchy AF. Aside from using them to discern spiritual data- via the art of divination- they can be used in ritual magic for New or Full Moon ceremonies. You can use the physical runes- made of wood, bone or stones- on an altar, or simply write the Runes into a spell on a piece of paper. Depending on the specific Rune, you can cut cords, release things that no longer serve you, or call in the blessings you want to manifest. What's more: almost all of the Runes correlate to deities and TOTEM Animals, so they're a great device to leverage in pursuing your personal spiritual work. If you've ever been curious about paganism or Wicca, you can honor those holidays (like Imbolc or Samahain) with the Runes.

The bicameral mind: As is evidenced by the two Rune-centric dreams I've shared above, the Runes stimulate the other, more intuitive and creative hemisphere of our brain. Their symbols are vague but specific, and open up brand new neural pathways. This work stimulates a state in the brain similar to learning languages or music, enhancing brain function, memory, and expanding consciousness. It also stimulates the growth and flexibility of the corpus callosum, the membrane separating the hemispheres of the brain. This, in turn, can make pivoting from linear to creative thought exponentially easier, with some suggesting this is THE KEY to experiencing waking spiritual visions and sober psychedelic experiences.
Book an Ancient Rune Reading
Honestly, TOTEM is trucking along just fine. There is no difference to me whether a client books a TOTEM Tarot Reading or a Channeling Session or an Akashic Record Reading, let alone an Ancient Rune Reading. But, as a lover of the Runes that has found my recent experiences to be inspiring and energizing, I want to get this tool to as many clients as possible.
Please consider booking your Ancient Rune Reading or referring a friend. We'll offer 50% off of this service through the end of March 2023, so please take advantage of this unique window to step through the veil and hang with some pretty cool spiritual beings.
You can book directly on the services page of our TOTEM website HERE or email me to learn more: rachel@totemreadings.com. The discount has already been applied so there is no promo code or anything to do!
What's more: please share your own Rune experiences with me and/or tag me in Rune-oriented posts on social media! I have a feeling that Odin, Tyr et al will be super pleased to get our collective attention;)
Join the Review Raffle
I really did seek to honor the Spirit Guides I met along my shamanic journey in our TOTEM Tarot Deck, featuring Norse friends like Odin and the Three Sisters in addition to Hugin and Munin, Freya and more. If you use our TOTEM Tarot Deck for your personal (or professional) spiritual practice, please consider writing us a review HERE. It makes a huge difference in getting found by cool, new clients that want a superior spiritual technology (that isn't a cheesy angel deck)!
And whether you write a review on Amazon, Yelp, Google, Etsy or anywhere else, please send it to us via email so that you can be entered to win a badass Raffle Review prize on April 1st 2023. The prize includes: a six-bottle TOTEM Flower Essence kit, a FREE TOTEM Tarot Reading, and a year-long premium subscription to our Substack (with Full Moon tarot readings and more!), a more than $600 value.
TOTEM is not about bullshit. We don't buy followers. We don't compromise our ethics (how you like me now, Tyr!?!). And we focus our time on creating quality content, products, and delivering quality services- NOT on Instagram. Because of this, word of mouth via referrals and reviews make an exponential difference, and I'm very, very grateful to all of you that have spread the good word about our work!
TOTEM Readings is a reader-supported publication. To receive new posts and support my work, consider becoming a free or paid subscriber.